Dear Internet,
Please meet Mabel. She is the small furry thing wrapped in the blanket burrito. I know, the last thing you need right now, Internet, is more cat videos and photos. Believe me, the last thing I need is someone else to clean up after. Yet, here we are.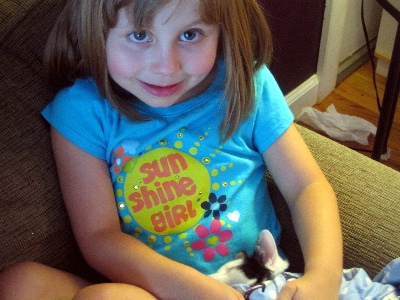 It's simple really. Daughter wants kitten. We procrastinate for a few months (refer to post title). We tell her that she actually has to pet a kitten before we get one. Daughter's Mother must have a full psychiatric evaluation. We get daughter a kitten.
Funny thing. Ellie could tell you what neurons, the pituitary gland, and the hypothalamus can do, but it took three days for her to remember Mabel's name. To help her, I made up a rhyme and sang it with a voice like Diana Krall. What?! That's what it sounds like in my head. Several times a day, I say, "Mabel Mabel set the table only if you think you're able". Then, for fun, I would leave off the end for Ellie to fill in. She remembered about 50% of the time. My favorite was,
Me: Mabel Mabel set the table only if you think…
Ellie: …you're ready for dessert.
Please pass the M&Ms. Oh, and the number of a good psychiatrist.